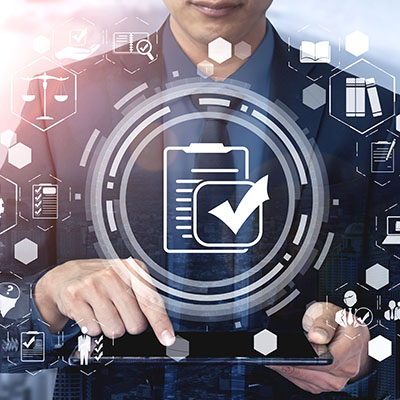 Outsource Your Organization's Compliance Responsibilities
The business world is changing rapidly, and with change, there are new opportunities and new rules. With data privacy becoming a hot-button issue for businesses and individuals, alike, it is increasingly important that your business has the resources it needs to meet all the compliance standards you operate under.
At G2 IT Solutions, Inc., we work with businesses that operate in a myriad of industries. This means that our technicians have to thoroughly understand the demands these regulations have on our clients' businesses. Our Virtual Compliance Officer (VCO) service provides any business with the expert compliance officer they need to coordinate strategies to meet even the most complicated regulatory requirements.
Expert Auditing and Assessment
Rely On the Experts to Keep Your Business Compliant
A substantial part of staying compliant is having strategies in place that won't put your business under pressure. Our team of regulatory experts can help you design and implement an IT infrastructure that meets all of your business' compliance needs, while also providing the end-to-end testing needed to ensure that your IT infrastructure meets those requirements.
Since regulations are constantly changing and new standards are implemented yearly, it is important that you have the experience and knowledge necessary to keep your business ahead of any regulations it falls under. Every business is tasked with determining how data should be stored, reported, and secured.
As a result, having a partner with a proven track record of keeping their client's information secure and compliant is extremely valuable.
Potentially Reduce Your Compliance Costs
Our VCO Service Can Help Make Your Compliance Costs Manageable
Not only can compliance be complicated, it can be expensive. For many small businesses, hiring a compliance expert that will demand a six-figure salary is simply not possible. G2 IT Solutions, Inc. can provide your business with the expertise and technical knowledge necessary to meet your business' compliance requirements, and we can do it for a fraction of the cost. With our VCO service, your company's regulatory situation will get the attention it demands, without the price tag of having to onboard an expert. This is just one of the many ways G2 IT Solutions, Inc. can help you maximize the value of the capital you have earmarked for IT. Additionally, by meeting all of the data security and reporting requirements outlined in many of the regulations your business operates under, you appreciably reduce the risk of being cited for non-compliance.
Some of the regulations our staff of technology experts can help you manage include:
HIPAA (Health Insurance Portability and Accountability Act)
PCI DSS (Payment Card Index Digital Security Standard)
SOx (Sarbanes-Oxley Act)
PIPEDA (Personal Information Protection and Electronic Documents Act)
GLBA (Gramm-Leach-Bliley Act)
EU GDPR (European Union's General Data Protection Regulation)
...and more.
If you would like to learn more about how you can rely on the IT professionals at G2 IT Solutions, Inc. for all of your regulatory compliance needs, call us today at (305) 675-1755.